Mainali Automatic Bandsaw Splitter
Precision engineered for efficiency and safety, the Mainali Splitter Bandsaw with splitting conveyor is the ideal solution for the longitudinal cutting of products such as pigs feet, cows feet, femur bones and numerous others.
Featuring variable speed settings and two conveyor belts with width regulation for splitting products, the Mainali Splitter Bandsaw can be effectively adjusted to cut the required product accurately and safely. The bandsaw is a continuous cycle machine, automatically feeding the product through the blade to the output in a simple and efficient process.
With automated conveyors that carry the product through the blade, the splitter bandsaw eliminates the risk of injury as the operator can utilise the machine safely out of close proximity from the blade without the need to apply any pressure on the product for cutting.
Features:
Precise and efficient longitudinal cutting for a wide range of products
Simple to operate and adjustable to suit your cutting requirements
Continuous conveyor system eliminates the risk of operator injury
Item Code: MAINALI-SPLITTER
Benefits
Reliable and efficient automated frozen product cutting and flaking

Automated conveyor and cutting systems eliminate risk of injury

Precision engineered for maximum durability and hygiene
Mainali - Superior Bandsaw Technology
The revolutionary machines from Mainali radically increases production while providing a safe and consistent solution to safety concerns. According to the British Meat Processors Association two people have a serious injury every week while working in the food industry, with a further 1,000 minor injuries reported every year.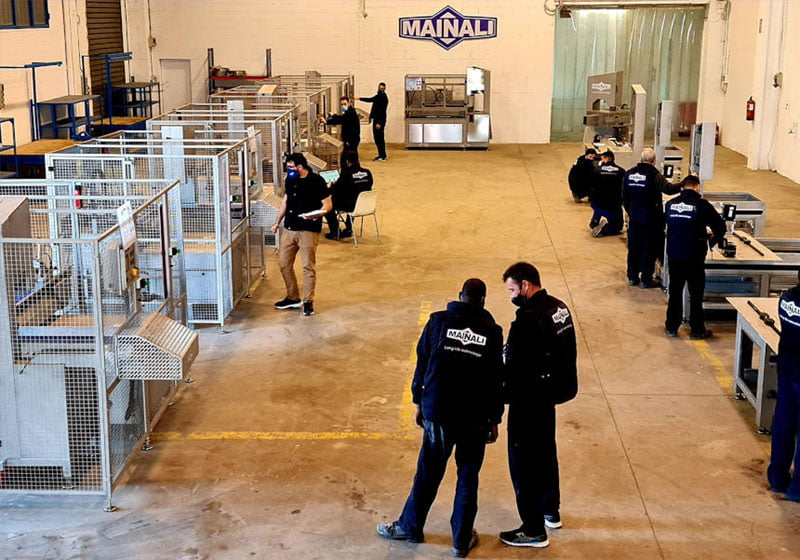 GET IN TOUCH TO DISCUSS YOUR REQUIREMENTS AND LET OUR EXPERTS FIND THE CORRECT SOLUTION FOR YOU.